Syndt
Polyphonic Synthesizer
---
A versatile, morphable polyphonic synthesizer.
Your new guilty pleasure.
Syndt is a high quality polyphonic synthesizer with a lot of possibilities. The oscillator waveform can be morphed between pure sine to pure square, and supports altering of pulse width. Both the shape and pulse width can be modulated by two independent LFOs. With fine-tuned low pass and high pass filters combined with a separate filter attack setting, (optionally based on velocity) this synth can create some raw and interesting sounds. The additional LFO can be shaped exactly as the oscillator, and optionally controls filters, gain and pitch (using a modulation wheel or just automatically). This LFO can be synchronized to a AUv3 host. Globally there's a nice stereo chorus, ping pong stereo delay (that also can sync to a AUv3 hosts BPM) and EQ.
Mac/Windows
AU/VST
$24,99
Part of the
Kanvas Synth Bundle
Try the demo!
(Desktop only)
Fully functional, but with occasional audio disruptions.
iPad
Standalone/AUv3
$7,99
Video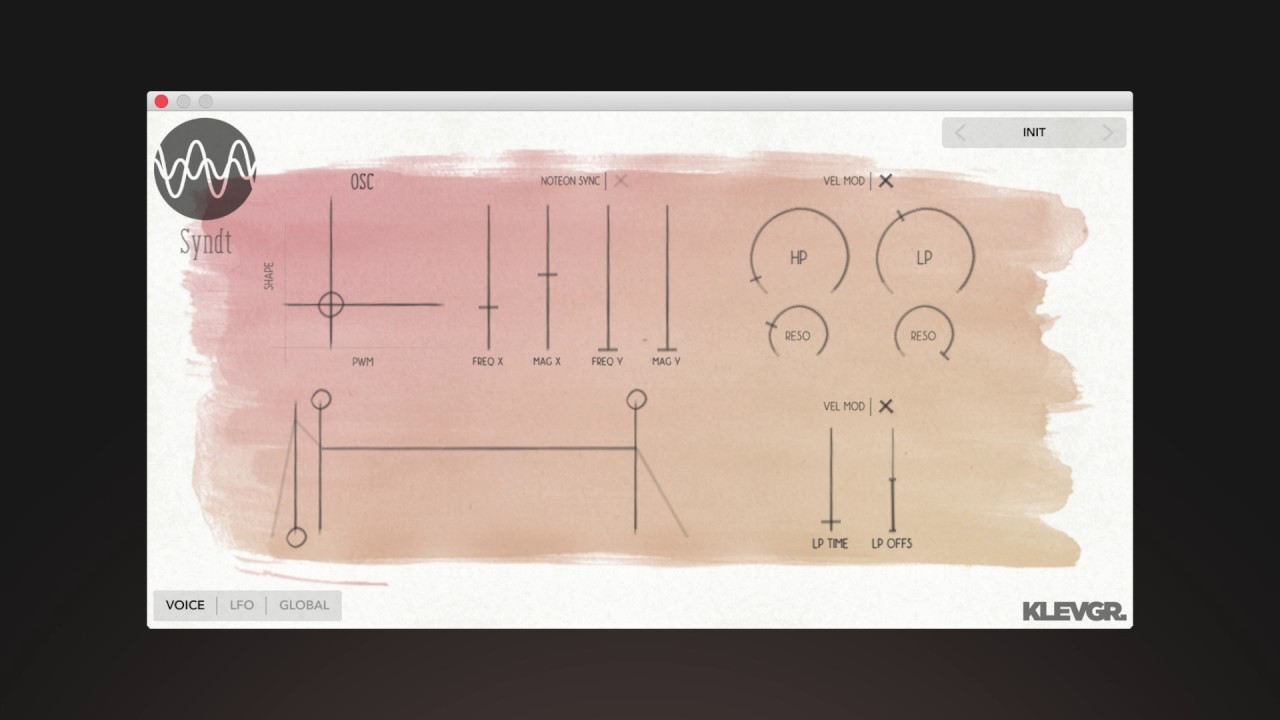 Features
70+ professionally made presets
XY pad based oscillator and LFO (PWM on the X axis and morphs between sine and square on the Y axis)
Independent mini-LFO (sine only) for each axis of the oscillator XY-pad.
LP / HP filter with resonance
LP Filter can be velocity sensitive
LP Filter has an optional attack time
LFO can affect LP filter, HP filter, gain level and pitch
LFO has an optional attack time
LFO can be synchronized with an AUv3 host (AUv3 mode only!)
Ping pong delay
Stereo Chorus
Three-band EQ
Legato mode with glide speed parameter
Pitch bend range
1
2
3
4
1. Oscillator

This XY Pad sets the wave shape. X axis: pulse width (pure sine to the left, short pulse width to the right). Y axis: morphs between pure sine and square.

2. LFO & more

A powerful LFO + Delay, Chorus & EQ lies under these tabs.
3. Mini LFO:s & Filters

These sliders affects the oscillators values. These LFO only output pure sinewaves. If the NOTE ON SYNC is ticked, the LFO will be reset on a new note. If not, it will keep on going. HP & LP Filters with separate resonance control.

4. ADSR

Controls the Attack time, Decay time, Sustain level and Release time of the voice.
Resources
Documentation
---
Demo (Desktop version only)
Fully functional, but occasionally with audio disruption. To unlock the full version, purchase a license and click on the ribbon marked DEMO to enter your serial number. (Yes, this download can be used if you have a license and need to re-install the full version)
Syndt for Mac v 1.0.0
syndt_mac_1_0_0.zip
(Unzip and open the included .pkg file to start the installation)
Syndt for Windows v 1.0.0
syndt_win_1_0_0.zip
(Unzip and open the included .exe file to start the installation)
---
High resolution images
Audio examples