Kleverb
Algorithmic Reverb
---
A smart reverb, designed to fit in any mix
Sweden's first space program
Kleverb is a high quality algorithmic reverb effect. An intuitive UI combined with a carefully calibrated network of filters and delays makes this a powerful effect useful in any context; all from acoustic jazz to EDM.

With three different room size setups (small, medium, large), selectable filter on both early and late reflections, modulation, damping, diffusion and much more, almost any kind of room can be simulated. There is also a ducker included that uses the dry signal as side-chain. Very useful to keep vocals or other solo instruments distinct even when they're soaking wet. The 64 factory presets covers most of the Kleverb features.
Mac/Windows
AU/VST/AAX
$59,99
Try the demo!
(Desktop only)
Fully functional, but with occasional audio disruptions.
iPad
AUv3
$19,99
Video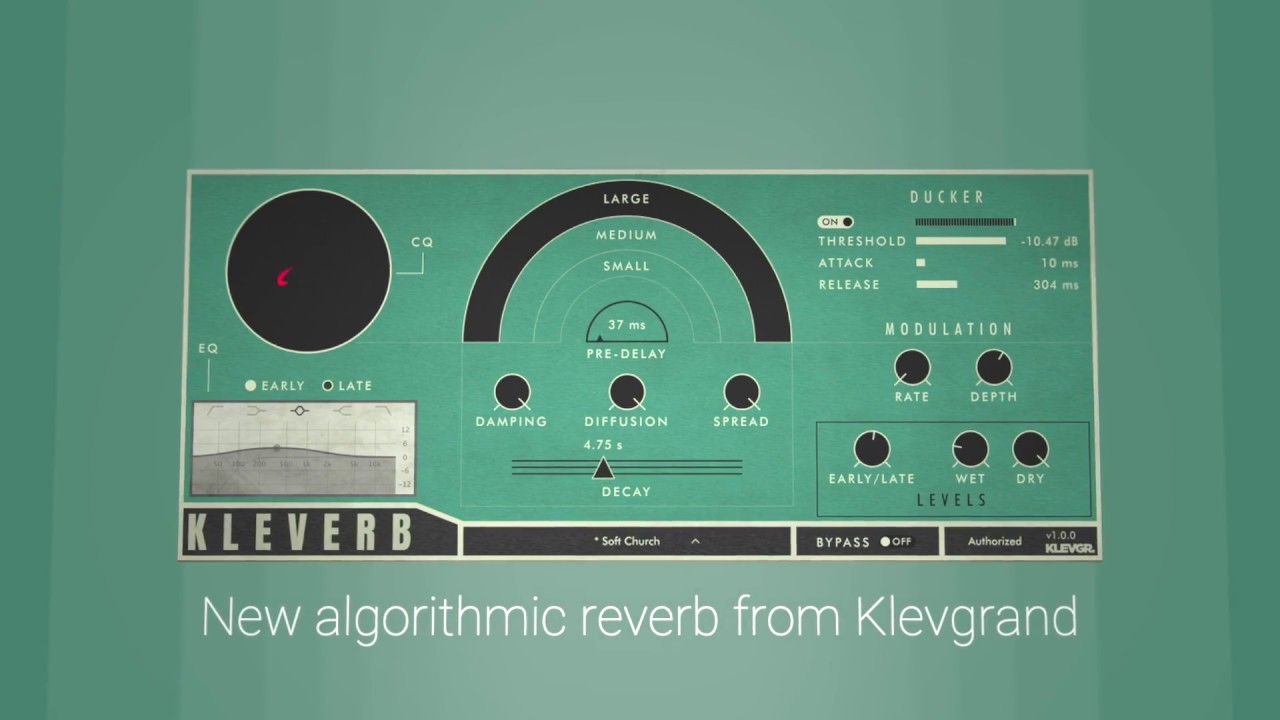 Features
Room size selection.
Filters with selectable type on both early and late reflections.
Wet signal modulation.
Damping filter.
Diffusion and Stereo Spread parameters.
Decay time between 0 and 25 seconds.
Pre delay parameter.
Ducker (compressor), with dry signal as sidechain.
Early / Late signal mix parameter.
Wet and Dry signal level parameters.
1
2
2
2
3
4
1. Decay, ok?!!

Up to 25 seconds should give you enough time to figure out what your next pad chord should be.

2. Damp, diffuse, spread.

Shape your space with intuitive and clever controls for both small and big changes.
3. Too much guck? Duck!

Often used, seldom built in the reverb itself. A trick to clarify a reverb-drenched lead vocal or instrument. It lowers the reverb while the dry signal is active, and raises it in the pauses. Everybody gets happy!

4. Modulation salvation

Modulate the reverb to give it a little more life.
Resources
Documentation
---
Demo (Desktop version only)
Fully functional, but occasionally with audio disruption. To unlock the full version, purchase a license and click on the button marked DEMO in the header to enter your serial number. (Yes, this download can be used if you have a license and need to re-install the full version)
Kleverb for Mac v 1.0.0
kleverb_mac_1_0_0.dmg
(Unzip and open the included .pkg file to start the installation)
Kleverb for Windows v 1.0.0
kleverb_win_1_0_0.zip
(Unzip and open the included .exe file to start the installation)
---
High resolution images
Audio examples