Jussi
Vocal Synthesizer
---
A unique vocal synthesizer.
A golden throat at your fingertips.
Jussi emulates male voice vowels in a unique way. Thanks to a set of powerful parameters you can make Jussi sing anything from soft and airy choir-like vowels to hard and angry shouting. Formants are controlled by playing with different velocity, which makes it fun and easy to play using a MIDI keyboard.
Mac/Windows
AU/VST
$24,99
Part of the
Kanvas Synth Bundle
Try the demo!
(Desktop only)
Fully functional, but with occasional audio disruptions.
iPad/iPhone
Standalone/AUv3
$7,99
Video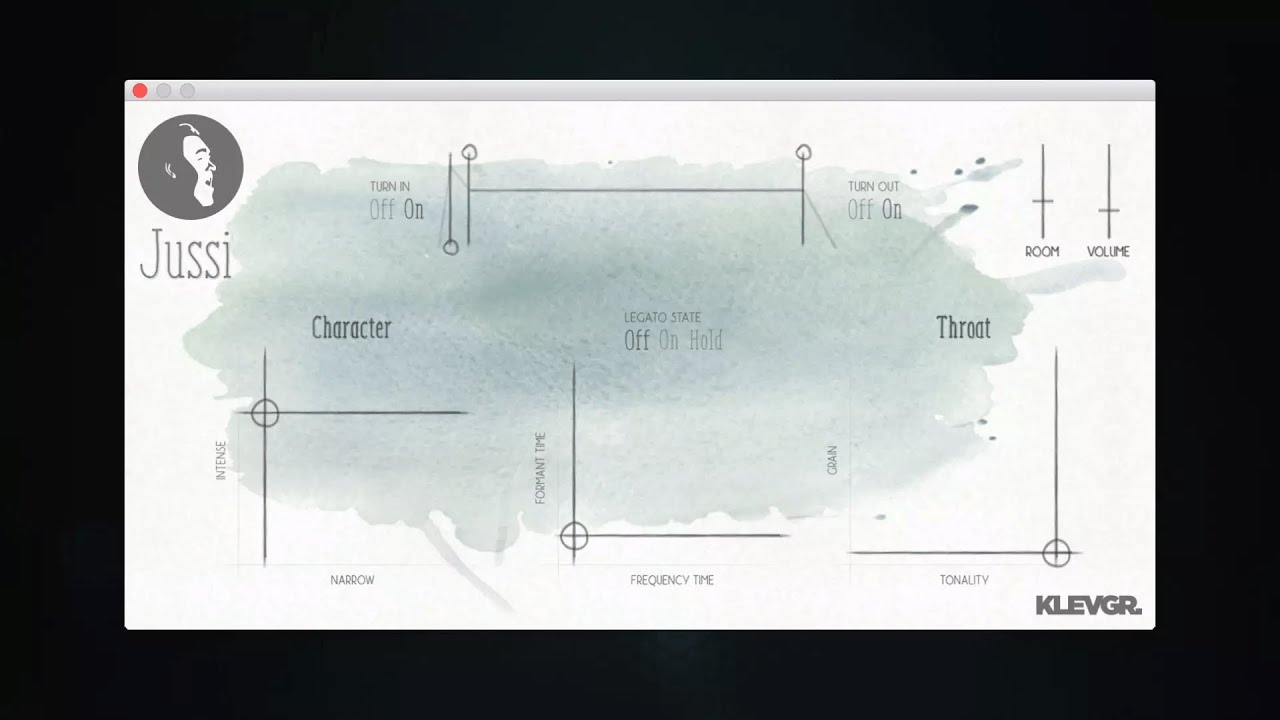 Features
ADSR with "Turn-in" and "Turn-out" option (Turn-in and Turn-out affects the pitch and maps it to attack and release) Voice character XY pad (Intensity and Narrowness)
Legato mode (glides between notes and velocity levels)
Legato Hold mode (polyphonic legato when using a sustain controller, consult the documentation for more info) Throat emulation XY pad (Grain and Tonality)
Built-in reverb
1
2
3
4
1. ADSR / Turn in & out

The ADSR controls the volume envelope of a triggered note with an option to slide the pitch (Turn in/out)

2. Character

Drag the XY pad to alter tone intensity. The 'intense' axis controls the formant's Q value and the 'narrow' axis the formant's gain value.
3. Three legato modes

Off: Like an ordinary polysynth. On: Normal legato mode (use XY pad to control). Hold: Smart polyphonic mode (see documentation for full info)

4. Throat

This XY pad controls grain-factor (Y-axis) and the tonality/noise-factor (X-axis).
Resources
Documentation
---
Demo (Desktop version only)
Fully functional, but occasionally with audio disruption. To unlock the full version, purchase a license and click on the ribbon marked DEMO to enter your serial number. (Yes, this download can be used if you have a license and need to re-install the full version)
Jussi for Mac v 1.0.2
jussi_mac_1_0_2.zip
(Unzip and open the included .pkg file to start the installation)
Jussi for Windows v 1.0.2
jussi_win_1_0_2.zip
(Unzip and open the included .exe file to start the installation)
---
High resolution images
Audio examples