GotoEQ
Premium Equalizer
---
A classic EQ unit reinvented for the digital age.
Hardware-style Dynamic EQ
GotoEQ is a new evolution of a vintage passive tube-based program equalizer, expanding on that classic sound with dynamic EQ bands. GotoEQ performs the classic 'low-end trick' with dual Boost and Attenuate controls for its low shelf, but it also offers the ability to perform a 'high-end trick', with a similar formulation of high shelving. With continuous frequency selection, you can tune each band as you like. But most importantly of all, GotoEQ's two mid bands offer dynamic attenuation, bringing a musical approach to the classic EQ unit.
Usage
Simultaneously boost and cut the low shelf to create that low-mid scoop on bass tracks. De-ess vocals or de-harsh overheads by engaging dynamic attenuation and tuning the high-mid band. Add air to signals with the high shelf filter, and 'scoop' the high-mids using a 'high-end trick'. Get control over the 'nose' of bass tracks with dynamic attenuation of the Low Mid and High Mid bands. Subtly EQ a whole mix or bus using light settings and mild compression.
Mac/Windows
AU/VST/AAX
$59,99
Try the demo!
(Desktop only)
Fully functional, but with occasional audio disruptions.
iPad
AUv3
$19,99
Video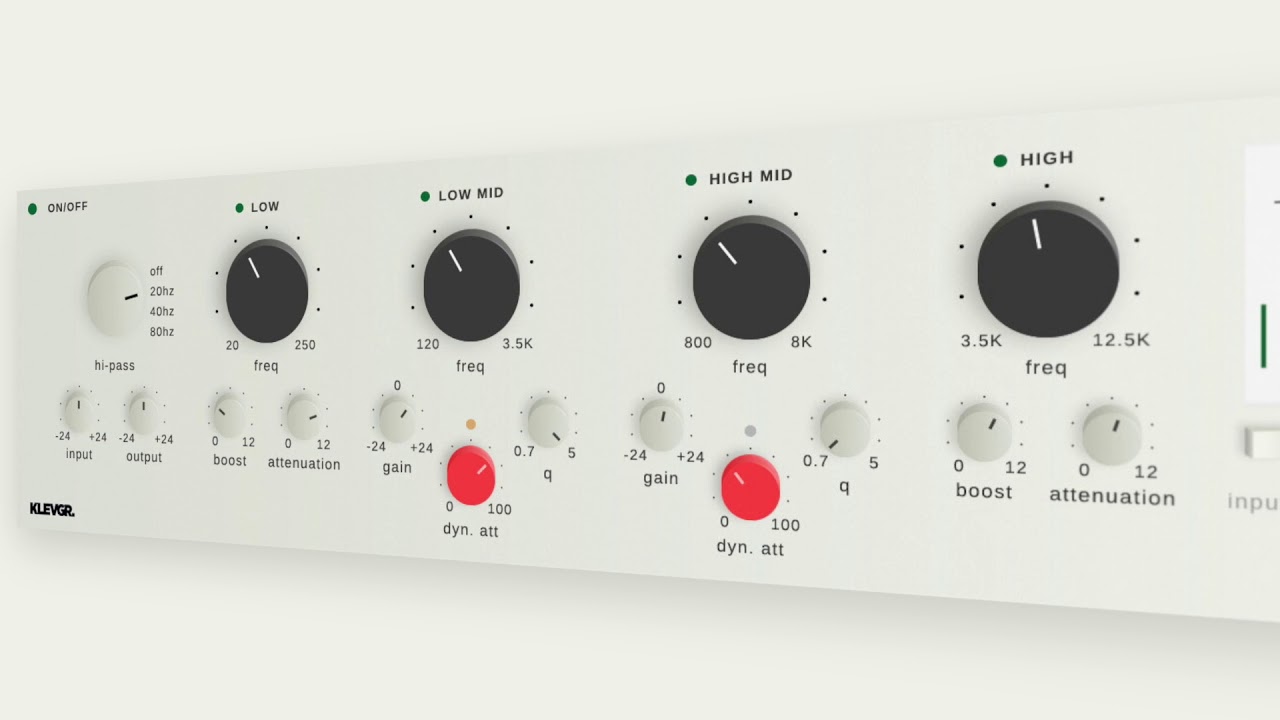 Features
Low- and High Shelf filters, with detailed modelling of a classic passive EQ unit.
Two parametric dynamic filters.
High-pass filter: 20/40/80 Hz.
Preset library.
Continuous frequency selection for all four bands.
Boost and Attenuation for the Low and High shelving bands.
Gain, Q and Dynamic Attenuation for the two mid bands.
Finely-tuned compression algorithm makes mid bands react dynamically to the signal.
Global Input and Output Gain controls (+/-24dB)
Global bypass and individual band bypass.
Peak metering for the input or output
1
2
2
3
3
4
1. Prepare for treatment

To let the dynamic processors work at their best, make sure to set the right input level.

2. Classic style filters

Two shelving filters with separate Boost & Attenuation controls. To achieve the 'Pultec' effect, both boost and attenuation must be above 0 dB.
3. Dynamic parametric EQ:s

These work a bit different than the Low & High filters – a dynamic processor attenuates the signal. Fine tune with the gain knob.

4. Level like a boss

VU-meters for Input or Output levels.
Resources
Documentation
---
Demo (Desktop version only)
Fully functional, but occasionally with audio disruption. To unlock the full version, purchase a license and click on the button marked DEMO in the header to enter your serial number. (Yes, this download can be used if you have a license and need to re-install the full version)
GotoEQ for Mac v 1.0.1
gotoeq_mac_1_0_1.zip
(Unzip and open the included .pkg file to start the installation)
GotoEQ for Windows v 1.0.1
gotoeq_win_1_0_1.zip
(Unzip and open the included .exe file to start the installation)
---
High resolution images
Audio examples