Enkl
Monophonic Synthesizer
---
Create a huge variety of sounds with this fully featured monophonic synthesizer.
Stop monophobia.
This fully featured monophonic synthesizer can create a huge variety of sounds. Fat basses, stabby leads, glitchy noises, old style chip tune sounds (including arpeggios), weird percussion, you name it. Enkl does the job! Enkl comes with 93 high quality factory presets, all crafted by professional music producers. Of course it is possible to create new ones and save. The Extended Keyboard makes Enkl really fun to play in standalone mode, choose scale, key and hit it off! (iPad version only)
Mac/Windows
AU/VST/AAX
$39,99
Try the demo!
(Desktop only)
Fully functional, but with occasional audio disruptions.
iPad
Standalone/AUv3/IAA
$5,99
Video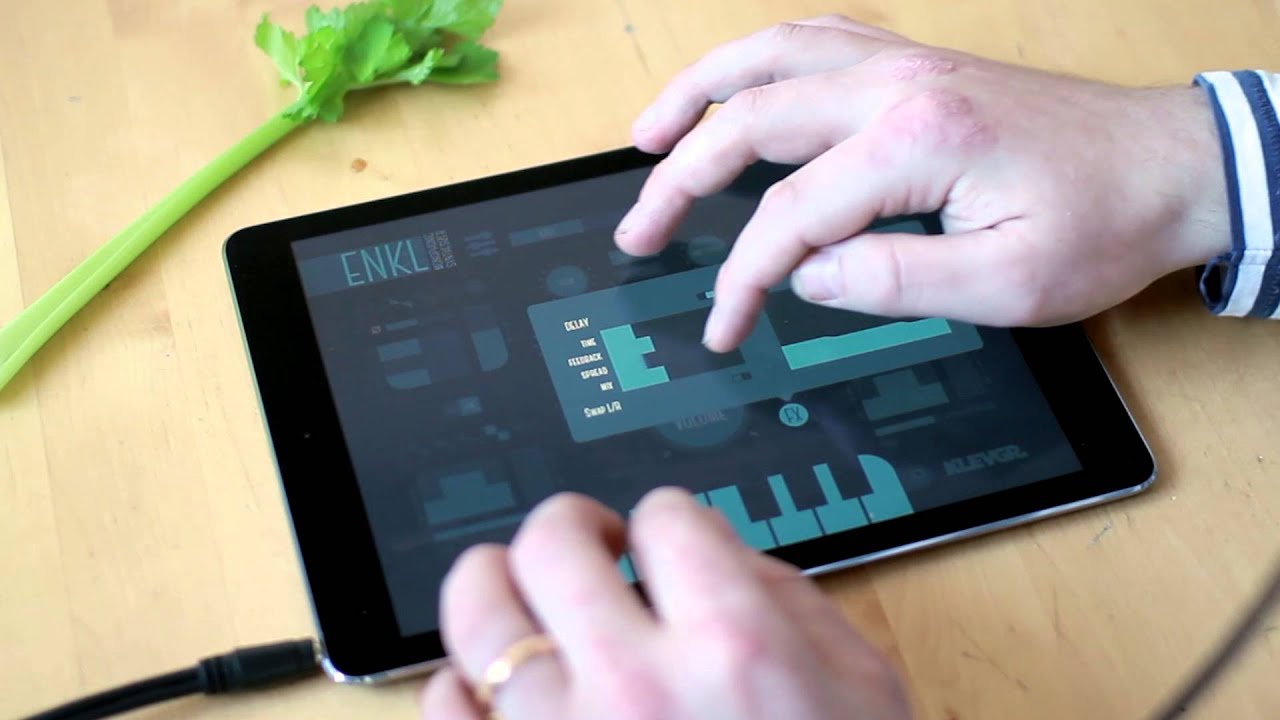 Features
Realtime rendered audio – no samples involved
Two separate oscillators with individual LFO's
Oscillators can generate Triangle, Sawtooth, Square or Noise waveforms
Oscillators can be added, subtracted or multiplied together
Each LFO has its own ADSR and modulates its oscillator's pitch or volume
High cut and low cut filter with resonance (also controllable via MIDI)
Chiptune-style arpeggiator
Legato mode
Ping-pong delay as a post effect
Three band EQ as a post effect
Comes with 93 factory presets
1
1
2
2
3
4
1. Oscillators

Two independent oscillators (Triangle / Sawtooth / Square / Noise), with optional filter switch, seamless phase offset & base pitch

2. LFO:s

Each oscillator have a dedicated LFO (Sine / Triangle / Sawtooth / Square / Noise). AM creates amplitude modulation (multiplying the two signals), while FM alters the pitch (frequency) of the oscillator. Additional ADSR control
3. Combine

In this section, the two oscillators are combined (add / subtract / multiply), mixed, shaped with the ADSR control, and filtered. A simple arpeggio and legato switch is also present.

4. Effects

A ping-pong delay and a finishing three-band EQ.
Resources
Documentation
---
Demo (Desktop version only)
Fully functional, but occasionally with audio disruption. To unlock the full version, purchase a license and click on the ribbon marked DEMO to enter your serial number. (Yes, this download can be used if you have a license and need to re-install the full version)
Enkl for Mac v 1.0.0
enkl_mac_1_0_0.zip
(Unzip and open the included .pkg file to start the installation)
Enkl for Windows v 1.0.0
enkl_win_1_0_0.zip
(Unzip and open the included .exe file to start the installation)
---
High resolution images
Audio examples