DAW LP
Vinyl Player Simulation
---
Scratches, hum, wear and noise is optional.
Get the point of a needle, without the needle.
DAW LP is a vinyl player simulation plug-in for Mac & Windows (AU/VST/AAX), and iPad (AUv3). It simulates various artifacts associated with vinyl – all the way from the vinyl record surface, to the output cable of the RIAA amplifier. Tune in anything from an old 78:s player to a modern HiFi sound.
Usage
Set the level of hum, scratches & noise along with the quality of amp, needle & cable. Fine-tune using the in, out & mix level.
Mac/Windows
AU/VST/AAX
$39,99
Try the demo!
(Desktop only)
Fully functional, but with occasional audio disruptions.
iPad
AUv3
$12,99
Video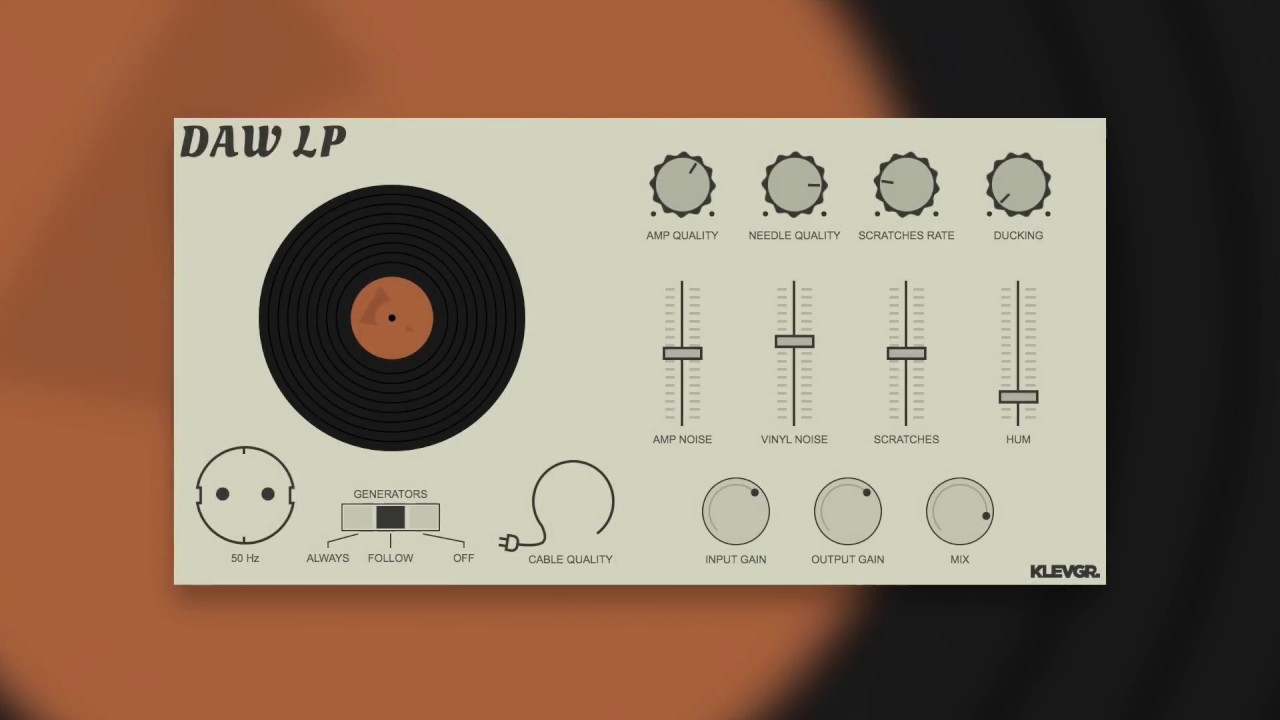 Features
Scratches/crackles rate, level and ducking.
Control vinyl noise, amplifier noise and low frequency hum levels.
Continuous control of amplifier, pickup needle and cable quality.
Switch between 50 Hz and 60 Hz hum.
Additional input gain, output gain and dry/wet mix parameters for convenience.
1
2
3
1. Where and when

Emulate a traveling around the world with just a click. (Decide what type of mains hum you want)
2. Quality matters

Sets the quality of the RIAA amplifier, pickup needle and cable.

3. Bring the noise

How much scratches/hum/wear/noise do you need?
Resources
Documentation
---
Demo (Desktop version only)
Fully functional, but occasionally with audio disruption. To unlock the full version, purchase a license and click on the ribbon marked DEMO to enter your serial number. (Yes, this download can be used if you have a license and need to re-install the full version)
DAW LP for Mac v 1.0.2
dawlp_mac_1_0_2.zip
(Unzip and open the included .pkg file to start the installation)
DAW LP for Windows v 1.0.2
dawlp_win_1_0_2.zip
(Unzip and open the included .exe file to start the installation)
---
High resolution images