GotoEQ is a new evolution of a vintage passive tube-based program equalizer for VST/AU/AAX/iOS, expanding on that classic sound with dynamic EQ bands, bringing more versatility to your mixing with continuous frequency selection, and adding metering functionality.
GotoEQ performs the classic 'low-end trick' with dual Boost and Attenuate controls for its low shelf, but it also offers the ability to perform a 'high-end trick', with a similar formulation of high shelving. With continuous frequency selection, you can tune each band as you like. But most importantly of all, GotoEQ's two mid bands offer dynamic attenuation...
Engage a band's Dynamic Attenuation control to activate compression across its range. The complex compression algorithm at work behind the scenes has been tuned for musical results with a single control.
Features:
VST, Audio Units, AAX, iPad compatible
Detailed modelling of a classic passive EQ unit
High-pass the signal at 20Hz, 40Hz or 80Hz
Continuous frequency selection allows fine-tuning to your audio material
Set Frequency, Boost and Attenuation for the Low and High shelving bands
Frequency selection is tuned to describe the notch created when cutting and boosting
Set Frequency, Gain, Q and Dynamic Attenuation for the two mid bands
Finely-tuned compression algorithm makes mid bands react dynamically to the signal
Input and Output Gain controls for the entire signal path (+/-24dB), and plugin bypass
Metering switchable to input or output
Usage cases:
Simultaneously boost and cut the low shelf to create 'that' low-mid scoop on bass tracks
De-ess vocals or de-harsh overheads by engaging dynamic attenuation and tuning the high-mid band
Add air to signals with the high shelf filter, and 'scoop' the high-mids using a 'high-end trick'
Get control over the 'nose' of bass tracks with dynamic attenuation of the Low Mid and High Mid bands
Subtly EQ a whole mix or bus using light settings and mild compression
Platforms:
Audio Unit (macOS)
VST (Windows/macOS)
AAX (Windows/macOS)
iOS/AUv3 (iPad)
Links:
Demo (macOS): Download
Demo (Windows): Download
(Contact us for NFR license)
iOS App: Download

Hi-res images: Download
Manual: Download
Video: https://youtu.be/Sdg9Cn4sx0o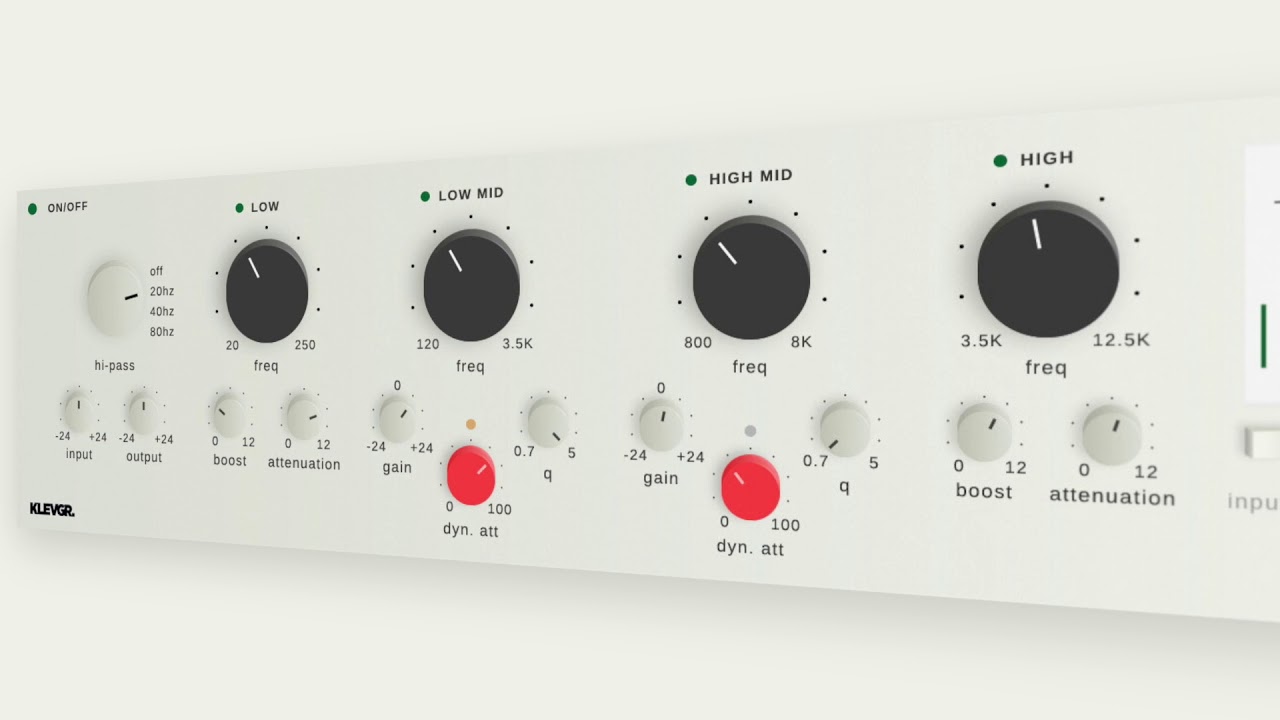 ---
Press inquiries
Tobias Engström
tobias@klevgrand.se
+46 73-913 19 35
---